Ceramic sand for foundry AFS60
Production introduction of

Ceramic sand for foundry AFS60
Ceramic sand for foundry AFS60 including furan resin no bake sand; alkaline-phenolic resin molding and core making;Pep set no bake sand,Sodium-silicate bonded sand,etc.
Size for No bake sand casting ceramic sand:
AFS35-45,AFS25-35,AFS45-55,AFS55-65,AFS60-70,AFS70-80
Mesh:30-50#,40-70#,50-70#,70-140#
characteristics of Ceramic sand for foundry AFS60:
1. Low thermal expansion coefficient
1. Spherical shape, good flowability, easy to shakeout
2. Smooth surface, compact structure
3. Chemically neutral material
4. High-temperature resistance, good refractoriness
5. Recycle up to 10 times, highly cost-effective.
6. Save resin consumption with casting tech such as shell molding, Resin coated sand casting, Vacuum casting, etc.
Performance comparison of

Ceramic sand for foundry AFS60

, Chromite sand, and Zircon Sand:
| | | | |
| --- | --- | --- | --- |
| Index | ceramic foundry sand | Chromite sand | Zircon Sand |
| PH  value | 7.65 | 4.56 | 8.24 |
| Bulk Density(g/cm3) | 1.95-2.05 | 2.9-3.1 | 2.6-2.7 |
| True density(g/cm3) | 3.4 | 4.4-4.71 | 3.9-4.8 |
| Shape | Spherical | Irregular | Irregular |
| Amount of binder | 3%—-4% | 7%—-8% | 7%—8% |
| (Waterglass+CO2hardening) | | | |
TYPICAL CHEMICAL ANALYSIS
AL2O3
70-75%
SiO2
8-20%
Fe2O3
≤3%
TiO2
≤3.5%
CaO
≤0.45%
MgO
≤0.35%
K2O
≤0.33%
Na2O
≤0.08%
TYPICAL PHYSICAL PROPERTIES
Refractoriness
≥1800 ℃
Specific gravity:
3.4g/cm3
Bulk density(LPD):
1.95-2.05 g/cm3
Color:
black brown
Grit shape:
spherical Ball
Thermal expansion coefficient
6×10-6 /℃(20-1000℃)
Thermal conductivity
0.698W/M.K(1200℃)
Thermal expansion ratio
0.13%
Angularity
≤1.1
Available sizes
AFS15-20,AFS 15-25,AFS25-35,AFS25-30,AFS30-35,AFS35-40,AFS40-45,AFS45-50,AFS40-50,AFS50-55,AFS55-60,AFS60-65  Customized sizes are available upon request
Ceramic sand for foundry AFS60 Applications:
1.    Raw material for ladle filler sand
2.    Shell molding
3.    Precision Casting
4.    Lost foam casting
5.    Heavy steel casting
6.    Resin coated sand casting
7.    Vacuum casting
8.    Investment casting
Product details of Ceramic sand for foundry AFS60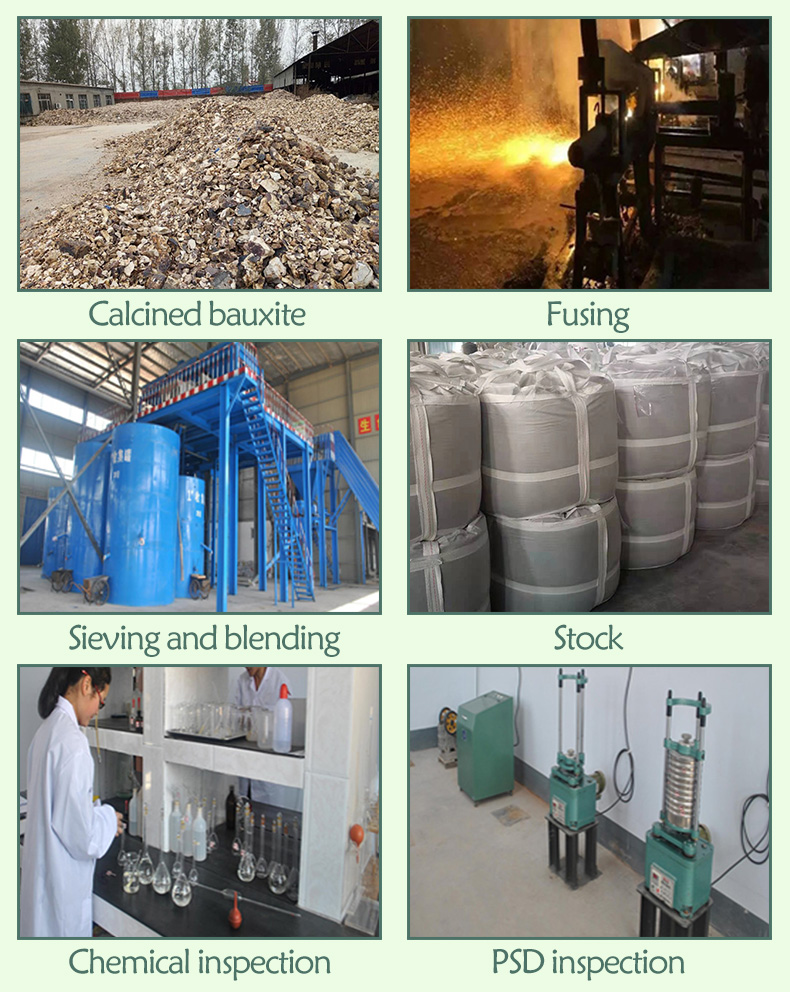 1Metric Ton/Jumbo Bag
25KGS/PVC Bag,40 Bags/Pallet
Other customized packages are available

Q: Are you a manufacturer?
A: Yes, Our factory was founded in 1999. We are an experienced manufacturer of foundry ceramic sand.
Q: What are the key quality indexes of ceramic foundry sand?
A: First of all, the Al2O3 content. We have three grade:75% Al2O3 ceramic sand,73% Al2O3 ceramic sand,70 Al2O3 ceramic sand.
Secondly, the particle size distribution of ceramic sand. We will provide samples according to the customer's requirements. And make the same particle percentage coincide with confirmed sand.
Q: Where is the nearest port from your factory?
A: Qingdao and Tianjin are both near to us.
Q: What is the HS code of ceramsite sand?
A: Since there is no specific HS code for ceramsite sand, there are HS codes 69149000 and 68159990 suitable for exporting ceramsite sand. But with our experience, HS code 68159990 is easier to do custom clearance with no risk to be inspected.
Q: How do you operate the QC system?
A: Before shipment, we will take 1 day to check the chemical composition for every bag. Our QC staff will take another day to check particle size distribution for every bag. We will reserve samples from each batch production in case there is anything wrong.
Q: What is the lead time for each order?
A: It depends on the quantity and sand size required. Generally 5-10 days for FCL(20-25MT).